China releases 2023 Catalogues of Goods requiring import and export licences as well as a draft amendment to trademark law with significant changes.
Hong Kong-mainland China travel fully resumes; "Hello Hong Kong" campaign is officially launched.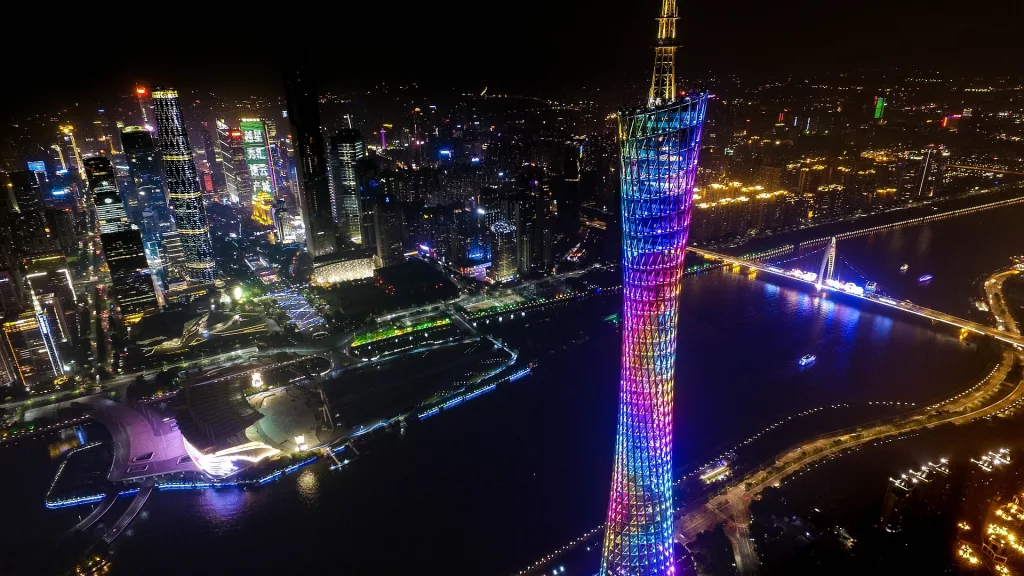 China Issues 2023 Catalogues of Goods Requiring Import and Export Licences
On 1 January,  the 2023 Catalogue of Goods Subject to Import Licence Administration ("Import Catalogue") as well as that of Goods Subject to Export Licence Administration ("Export Catalogue"),  jointly issued earlier by the Ministry of Commerce and the General Administration of Customs, came into effect.
The updated Import Catalogue spans a total of 14 categories of goods, including in chemical equipment, used mechanical and electrical products, ozone-depleting substances, and metal smelting equipment. Minor amendments have been made to the ozone-depleting substances category, to which several chemical items have been added.
The updated Export Catalogue spans a total of 43 categories of goods, including food, raw materials, equipment and manufactured products. Adjustments have been made to the chemical, ozone-depleting substances, sawn timber and automobile categories.
Hong Kong is Back: "Hello Hong Kong" Campaign Launched
On 2 February, the Hong Kong Special Administrative Region Government officially launched the "Hello Hong Kong" campaign, a promotional effort on a grand scale, to lure visitors back to the city. The campaign's rich repertoire of promotional activities aims to showcase Hong Kong's newest attractions, developments and opportunities.
According to the Hong Kong SAR Government, the city has now reached a new stage of development, progressing from stability to prosperity and serving as a gateway to mainland China and beyond. The time has come for tourists, investors, entrepreneurs and  innovators to come to Hong Kong and experience everything that the city has to offer first hand as well as take advantage of the wealth of new opportunities.
The campaign revolves around four main aspects:
🔵 500,000 free airline tickets will be given away to visitors around the world for them to experience Hong Kong's hospitality  and visit the newest attractions, including the Hong Kong Palace Museum and M+ museum in the West Kowloon Cultural District.
🔵 Prominent business leaders, political dignitaries and other influential figures will be invited to come to Hong Kong.
🔵 The HKSAR Government will organise and lead delegations to mainland China and overseas countries in order to spread the good word about Hong Kong worldwide.
🔵 More large-scale conferences, exhibitions and events in the areas of finance, economy, innovation and technology, sports and culture, and dining will be held.
Hong Kong Stock Exchange Consults Public on Paperless Listing Regime
Last month, the Hong Kong Stock Exchange ("HKEX") invited public input on proposals to expand the scope of its paperless listing regime. The aim is to boost efficiency and cut costs for listed companies by streamlining administrative procedures. The public consultation period ends on 28 February.
According to the proposed amendments, electronic submission of most documents shall be mandated, eliminating the need for any unnecessary submissions. Listed companies will also be required to disseminate their corporate communications electronically.
The key proposals are as follows:
🔵 Simplifying the document submission procedure
Listed companies would no longer need to file separate submissions to affirm that they are in compliance with different obligations under the Listing Rules.
🔵 Mandating electronic-only submission
The HKEX has proposed that all documents be submitted electronically unless otherwise specified, dispensing with wet-ink signature or certification requirements. Named the "Issuer Platform", a new online platform which allows documents to be signed electronically would be set up.
🔵 Mandating electronic dissemination of corporate communications
Listed companies would be required to disseminate corporate communications, for example, circulars and announcements, to shareholders electronically, subject to the laws and regulations of the relevant jurisdiction.
China Releases Draft Amendment to Trademark Law with Significant Changes
On 13 January, the China National Intellectual Property Administration released the Draft Amendment to the PRC Trademark Law for public consultation ("Draft Amendment"). Since the PRC Trademark Law came into force in 1983, it has undergone four Amendments, with the Draft Amendment being the fifth revision.
The Draft Amendment incorporates some major changes to address the longstanding, hotly debated issues relating to bad faith filings, trademark squatting practices, the continued flagrant abuse of rights, malicious lawsuits and the various challenges posed to trademark protection.
Legal experts observe that the Draft Amendment, if passed, will have far-reaching implications for brand protection and management in China.
Some of the significant changes include the following:
🔵 A new Article has been inserted to enlarge the scope of what constitutes a bad faith trademark application. Types of filing deemed to be of bad faith include filings without intent to use, filings that are injurious to the interests of the state or public, and filings with intent to harm the legitimate rights of others or to seek illegal gains.
🔵 The filer of a bad faith application may face administrative penalties, including official rebukes from trademark enforcement authorities and a fine of up to RMB 50,000; in the case of a grave violation, a fine of up to RMB250,000 may be imposed.
🔵 Parties whose rights are violated will have legal recourse against bad faith filers through civil action and can claim compensation to recoup any reasonable legal costs, at the very least.
🔵To combat the practice of trademark squatting, the Draft Amendment requires the applicant to prove a necessity of acquiring trademark rights based on actual use or commitment to use when lodging a trademark application.
Hong Kong Expands Scope of Immigration Facilitation Scheme for Designated Visitors
With effect from 1 February, the Hong Kong Special Administrative Region Government expanded the scope of the Pilot Scheme on Immigration Facilitation for Visitors Participating in Short-term Activities in Designated Sectors ("Pilot Scheme"), which was initially launched in June 2022.
The Pilot Scheme enables more non-local talents to participate in qualified short-term activities in the capacity as visitors for up to 14 days and receive remuneration, without the need to apply for employment visas or entry permits.
The expanded Pilot Scheme covers the following 12 sectors:
🔵 Medical and healthcare;
🔵 Higher education;
🔵 Arts and culture;
🔵 Sports;
🔵 Heritage;
🔵 Creative industries;
🔵 Innovation and technology;
🔵 The Hong Kong Laureate Forum;
🔵 Aviation;
🔵 International/mega events;
🔵 Finance;
🔵 Development and construction.
The sectors of "finance" and "development and construction" have been newly added to the existing 10 sectors covered by the Pilot Scheme.
For more information, visit the Immigration Department's website.
China to Implement Preferential Tax Policies and Financial Measures to Support Economic Rebound
On 28 January, China's State Council held an executive meeting, urging for the effective implementation of the following items to build on the momentum of an economic rebound:
🔵 Extend VAT relief provided to small-scale VAT taxpayers;
🔵 Extend inclusive loans granted to micro and small businesses;
🔵 Increase the provision of consumer loans;
🔵 Optimise policies to meet people's basic housing needs;
🔵 Improve housing conditions;
🔵 Ensure the delivery of pre-sold homes;
🔵 Promote the development of cross-border e-commerce and overseas warehouses;
🔵 Better leverage the role of pilot free trade zones and other trade promotion platforms;
🔵 Implement policies to facilitate cross-border mobility of personnel.
Hong Kong-Mainland China Travel Fully Resumes
On 6 February, normal travel fully resumed between mainland China and Hong Kong as well as Macao, with all boundary-crossing points resuming normal operations, including Lo Wu, Heung Yuen Wai-Liantang and Lok Ma Chau. In addition, all quota restrictions were axed.
In addition:
🔵All quarantine, isolation and vaccine requirements have been lifted.
🔵Travellers from the Mainland and Macao are no longer required to conduct a pre-departure nucleic acid test.
🔵Travellers from Macao arriving in Hong Kong are no longer required to conduct a pre-departure rapid antigen test.
However, travellers (except those aged three or below) who have been abroad or in Taiwan in the past seven days and are transiting through Hong Kong to mainland China must show a negative PCR test result within 48 hours prior to entry.
Hong Kong Companies (Amendment) Ordinance 2023 to Come into Effect on 28 April
Gazetted on 27 January, the Companies (Amendment) Ordinance 2023 ("Amendment Ordinance") will come into force on 28 April, which provides for the holding of completely virtual or hybrid general meetings by Hong Kong incorporated companies.
Under current legislation, there is a degree of ambiguity surrounding the permissibility of fully virtual meetings. While Section 584 of the Companies Ordinance provides that a general meeting can take place at two or more locations by means of technology to enable members to communicate effectively and vote, the position on virtual-only meetings is less clear.
The key amendments are as follows:
🔵 Section 547
A new definition of "virtual meeting technology" has been added, which refers to technology that enables a person to listen, speak and vote at a meeting without being physically present.
🔵 Section 583A
A company can hold a general meeting at a physical venue, by using virtual-meeting technology, or in a hybrid format, ie., both at a physical venue and via virtual-meeting technology.
🔵 Section 576
The notice of a general meeting should specify where the meeting will take place, if it is held in-person, or which virtual-meeting technology will be used, if it is held virtually.
Unless its articles of association expressly prohibit it or require that a general meeting be held only at a physical location, a company may hold a general meeting virtually.
The key implication of the Amendment Ordinance is that companies no longer have to amend their articles of association to provide for the holding of virtual-only general meetings. Virtual participation at a general meeting is deemed proper presence under the Companies Ordinance.
Hong Kong Launches Pilot Visa Scheme for Mainland Talents in the Greater Bay Area
Starting from 20 February, mainland talents from the nine cities in the Guangdong-Hong Kong-Macao Greater Bay Area ("GBA") have been able to apply for multiple-entry visas to Hong Kong and Macao.
The pilot visa programme, according to China's National Immigration Administration ("NIA"), is open to skilled professionals from the following six categories:
🔵 Talents who have made significant contributions to the development of the region
🔵 Scientific research
🔵 Law
🔵 Health
🔵 Academia
🔵 Other recognised talents
Eligible talents can apply for multiple-entry visas with a validity period ranging from one to five years, allowing them to make numerous visits between mainland China, Hong Kong and Macao, with each visit lasting no longer than 30 days.
The NIA said that the aim of the pilot visa programme was to facilitate scientific research and academic exchanges within the GBA, promote development of the megacity cluster, and further boost regional integration.
China Adds Preferential Tax Policies to Regulations on Promoting the Development of Hengqin Cooperation Zone
On 8 February, the Standing Committee of Guangdong Provincial People's Congress promulgated the Regulations on Promoting the Development of the Guangdong-Macao In-Depth Cooperation Zone in Henqin ("Regulations"), which will come into effect on 1 March.
The Regulations apply specifically to activities aimed at encouraging the building and development of the Guangdong-Macao In-Depth Cooperation Zone in Hengqin ("Cooperation Zone").
Spanning 66 articles in eight chapters, the Regulations address a wide range of areas, including the governance system, industrial development, improvement in livelihood and employment prospects for Macao residents, and the integrated development of Hengqin and Macao.
In addition, the Regulations incorporate the preferential tax policies for individuals and enterprises in the Cooperation Zone, which were issued earlier. Goods manufactured by Cooperation Zone-based enterprises without imported materials, or with imported materials but where at least 30% of its added value is generated in the Cooperation Zone shall be exempt from import duties.
In another recent announcement jointly released by the Finance Bureau and the Taxation Bureau in the Cooperation Zone, alongside three other departments, the eligibility criteria for the reduced 15 per cent corporate income tax rate were clarified:
1. The company must operate in one of the industries listed in the Catalogue of Industries Eligible for the Preferential Corporate Income Tax in the Cooperation Zone (2021 Edition); and
2. The company must have substantial operations in the Cooperation Zone, i.e., its central management and control are located in the Cooperation Zone.
CW CPA assumes no responsibility or liability for any errors or omissions in the content of this site and/or for the results obtained from the use of the information contained in this site. All information in this site is provided on an "as is" basis with no guarantees of completeness, accuracy, usefulness or timeliness.